Tuesday, September 15, 2009
Wednesday, September 9, 2009
Ughh isn't the first day back after a super fun long weekend the worst?? Since I didn't actually take any vacations this summer (except for a day here and there) I decided that I would extend my Labor Day weekend and take off yesterday. Didn't really do much except hang out with my friends, bbq, cocktail and laugh which is 4 of my favorite things in the world anyways. It was heavenly to not have a damn thing to do all weekend long.
Now for something new and adorable! Awhile back I won an awesome giveaway to get a custom made blog button from
Redbud Designs.
I had always seen other buttons on all of your blogs and was super jealous for one of my own. After much emailing back and forth with the extremely patient and talented Sharon. She made me this...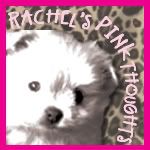 Doesn't Maizey look fabulous?! That picture is from the day I got her, I drove all the way from New Jersey to Michigan and she was just a 1.5lb ball of fluff. The button is perfect it incorporates all things that I adore Maizey, leopard print and PINK! So I think that it would look fantastic on your blogs so feel free to take it today! I have a strange feeling that my new fall giveaway coming up will have something to do with all my blogland lovelies and my new button hmm...